Reverend Mark Kelly Tyler, Ph.D.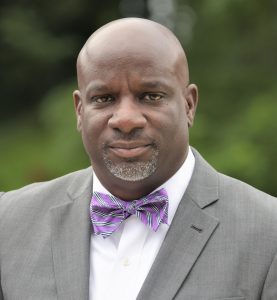 Mark Kelly Tyler
is a native of Oakland, CA and he is the third child of Bill and Elroy Tyler. In 1987, he accepted God's call to preach the liberating Gospel of Jesus Christ. He is an ordained itinerant elder in the African Methodist Episcopal Church.  He is a graduate of Clark Atlanta University (B.A., Religion), Payne Theological Seminary (Masters of Divinity), and the University of Dayton (Ph.D., Educational Leadership). Since 1994, Dr. Tyler has been in full time ministry in the African Methodist Episcopal Church. He has been blessed to serve as pastor of congregations from one coast to the other:  Oakley Chapel (Tebbetts, Missouri); Quinn Chapel (Jefferson City, Missouri); Allen Chapel (San Francisco, California); Prince Chapel by the Sea (La Jolla, California); Bethel (Oxford, Ohio); Bethel (West Chester, Pennsylvania); and, Macedonia (Camden, New Jersey).
Dr. Tyler currently serves as the 52nd pastor of Mother Bethel African Methodist Episcopal Church in Philadelphia. Mother Bethel, the first congregation founded by Bishop Richard Allen, has been a spiritual, social, and community force since the late 1700s. Mother Bethel also has the honor of serving as the final resting place of church founder, Bishop Allen, Sarah Allen, and Bishop Morris Brown. It is an international destination for AME pilgrims and tourists alike.
Dr. Tyler is a documentary film maker. He has worked on and produced several projects, including Bishop Richard Allen: Apostle of Freedom (The Documentary); The Anvil: Echoes from the General Conference; The Anvil: The Spirit of African Methodism; and, The Anvil: Preaching on the Frontline. He has been consulted as an on-air expert on numerous other documentaries, including Dr. Henry Louis "Skip" Gates' PBS documentary, The African Americans: Many Rivers to Cross; multiple episodes of Sam Katz' Philadelphia: the Great Experiment; The Scroll: Evidence of the Life Unseen, Volume 2, and others. 
Dr. Tyler has also been active in the world of theological education, currently serving as an Adjunct Faculty Member of Payne Theological Seminary and a Fully Affiliated Faculty Member at the Methodist Theological Seminary in Ohio. He has been a member of the Adjunct Faculty at Northeastern Seminary, New Brunswick Theological Seminary, Missio Seminary, and United Lutheran Seminary. Additionally, Dr. Tyler is the past Director of Church Relations and Alumni Affairs at Payne Seminary and the past Director of Church Vocations at New Brunswick Seminary. He formerly served on the advisory boards for the Urban Theological Institute at United Lutheran Seminary and Northeastern Seminary. He has also served on the Board of Trustees of New Brunswick Theological Seminary and the United Lutheran Seminary.
Dr. Tyler's ministry has also led him into the work of activism and organizing for social justice. Mother Bethel is one of the founding congregations of POWER (Philadelphians Organized to Witness, Empower, and Rebuild). POWER, a part of Faith in Action formerly known as PICO, is the region's largest faith based organizing effort. His work with POWER involves serving as one of the directors of the LIVE FREE campaign which centers on criminal justice reform, ending mass incarceration, and police accountability. He is a former Co-Chair of the Clergy Caucus and former Co-Chair of the Board of Directors.
Dr. Tyler is a Philadelphia based radio host on "The POWER Hour" on WURD Radio. He has also hosted several other programs, including "Urban Insight", "Wake up with WURD", and "Mark and Denise in the Mornings". As a host, he has interviewed some of the most influential persons of our time. He is an active member of Alpha Phi Alpha Fraternity, Inc. and in his "spare time" enjoys traveling to new places, riding motorcycles, and roller skating. He and his wife, Leslie, live in the Philadelphia area. He has four wonderful children.