Reverend Marcia L. Williams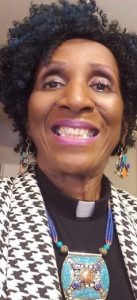 Reverend
Marcia L.
Williams
is an Associate Minister at the Historic Mother Bethel AME Church in Philadelphia, PA., where she serves on the Arts Council Ministry.  Reverend Williams has a passion for "Christ Kingdom-building," via liturgy, drama, and the visual arts.  She has written, directed, and performed in several lyric-dramatic and mixed-media theatrical productions around themes of womanism and socio-political transformation.  She is an accomplished preacher, keynote speaker, facilitator, and worship curator "Imaginator."
A native of Kansas City, Missouri,  Rev. Williams is the recipient of the Bachelor of Arts degree in Foreign Languages & Literature from the University of Missouri-Kansas City; the Master of Public Administration degree in Human Resources Management from the University of Colorado-Denver; and is currently completing studies at the United Lutheran Seminary-Philadelphia toward the Master of Divinity Degree in Public Theology.  She previously served as Minister of Public Information and Publications at the Shorter Community AME Church in Denver, CO.
As owner and Executive Consultant of The Crawford Williams Group, LLC, she provides Human Resources Management consulting services to corporate, non-profit, and faith-based organizations. Her use of creative strategies to enhance interpersonal and spiritual "gifts and competencies" demonstrates her commitment to motivate individuals to personal excellence. Rev. Williams is a Life Member of Delta Sigma Theta Sorority, Inc., and has served  locally, regionally, and nationally in elected and appointed leadership positions.