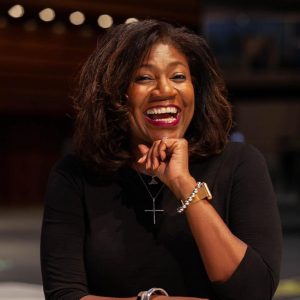 Leslie Patterson Tyler
is the Senior Director of Media Relations and Communications for The Kimmel Cultural Campus in Philadelphia
In her role she provides overall leadership and management of The Kimmel's communication strategies for its programming and education initiatives, and overall institutional identity and messaging, as well as overseeing internal communications initiatives and cross-departmental communications. Leslie is also a member of the Kimmel's Diversity, Equity, & Inclusion Committee and has been instrumental in helping the Kimmel with community engagement strategies that diversify audiences and key partnerships.
Leslie Patterson-Tyler is also the co-owner and Chief Operating Officer of Tyler Made Media, LLC., a multi-media consulting company that assists faith-based groups, non-profits, and small businesses tell their stories. Tyler Made Media's notable clients include POWER Interfaith, Black Bikers Vote, and the historic Mother Bethel African Methodist Episcopal Church, the congregation to which Leslie belongs and where she serves as Director of Communications. Since assuming the position in 2008, Leslie's efforts have resulted in Mother Bethel receiving local, national, and international media coverage on countless of occasions.
Leslie Patterson-Tyler transitioned to PR from a very successful career as a television news executive having worked in commercial newsrooms around the country for more than 20 years. She held senior management roles in some of the most competitive markets in the nation including Philadelphia, Washington, DC, Miami, and her hometown of Cincinnati. Leslie gained a reputation as a difference maker in the newsroom and her community pushing herself and those around her to do more than settle for the old "if it bleeds, it leads" mentality. Recognizing how important the news is in shaping public opinion, Leslie always strived to produce stories that made a difference, by going deeper than what was on the surface.
Leslie Patterson-Tyler's passion to make a difference is not limited to her own professional career. She has taken that same drive to make a difference throughout her community, serving in the following capacities: Board Member Arts & Business Council; Advisor Sarah Allen Women's Missionary Society; Board Member PHL Diversity; former Board Member of the American Red Cross Penn Jersey Region and Sickle Cell Committee Chairperson; former Board Member and Schools & Youth Activities Committee Chair, Queen Village Neighbors Association (QVNA); creator of "First Ladies Health & Wellness Tea" with the American Diabetes Association to engage wives of area pastors to join the fight to prevent diabetes; elected member of the School Advisory Council of Julia R. Masterman High School; past President, Meredith Home and School Association; and, former Vice-President of Community Engagement for the Friends of Nebinger Elementary School. She has become a "go-to" person in the health and education communities in Philadelphia in helping to spread messages to various constituencies.
Leslie is a graduate of Xavier University in Cincinnati, Ohio and studied in the Graduate School at Miami University in Oxford, Ohio. Leslie recently earned a Diversity & Inclusion Certification from Cornell University and is also a distinguished McCormick-Tribune Fellow and a Fellow of Leadership Philadelphia Class of 2011. She is a member of the National Association of Black Journalists, Philadelphia Association of Black Journalists, The Philadelphia Black Public Relations Professionals, Philadelphia Public Relations Association, Philadelphia Public Relations Association, the Delaware Valley (PA) Links, Incorporated, and Rho Theta Omega Chapter of Alpha Kappa Alpha Sorority, Incorporated. Leslie and her husband, Rev. Mark Kelly Tyler, Ph.D., live in the Philadelphia area with their children. In her spare time, she enjoys, cooking, traveling to new places, and running with "Black Girls Run." She successfully completed her first Half Marathon in October 2015 and is currently training for her tenth Broad Street Run.